MetaPlay
Discovery of a new land through real estate.
Metabus ecosystem.
MetaPlay is a blockchain complex metabus platform
that breaks away from centralized services and creates a new profit model
for the formation of a new land by decentralizing real estate.
About
MetaPlay can issue real estate pegging digital NFTs.
It is true that real estate assets are difficult to access easily. Based on this, MetaPlay thought of an NFT, or equity investment NFT plan that allows anyone to own and exercise ownership with a small amount of assets, and the characteristic of this NFT is that anyone can easily participate. Virtual assets, a representative example of a decentralized system. It is a convergence of the financial system and the in-kind asset financial system, and it is of great significance that it can offer new options to existing users. The decentralized system presupposes a blockchain technology base, and blockchain technology is constructed through the participation of multiple nodes.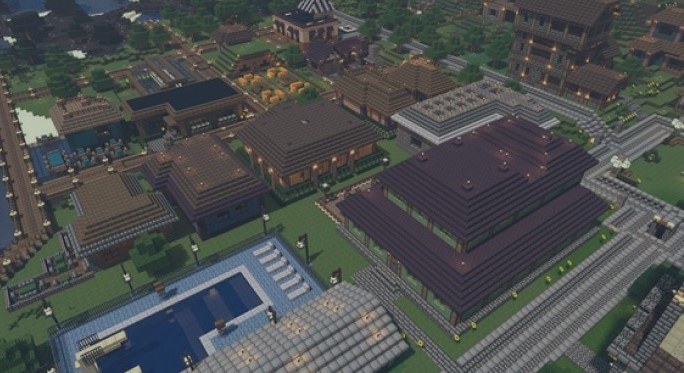 MTY Protocol
MetaPlay proposes standards for connection between
spot real estate and blockchain and provides technology.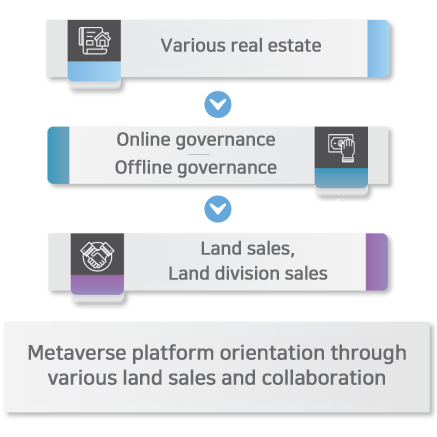 Oracle Node and bond buyer liquidation participants participated,
The security of the ecosystem and the stability of system maintenance assets will be assessed, reducing risks and securing more and more diverse assets to expand linked organizations. Services through governance are based on users with metafly. We exercise our rights by demanding kyc, presenting governance agendas and voting.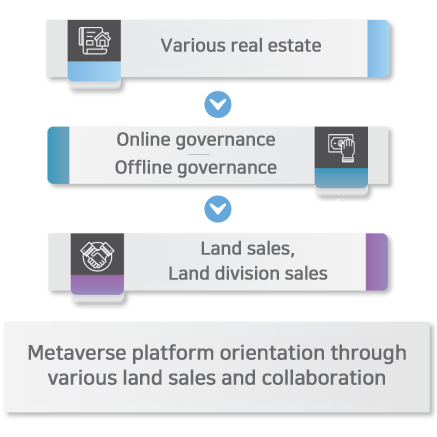 Metaverse in METAPLAY

Digital asset issuance.
After registering in-kind real estate assets
and passing the agenda through the approval process, tokens are created and generated as a land.
Only assets passed after governance verification,
review, and voting are conducted can be issued.

Digital Land transaction.
Digital land assets are traded at NFT Marketplace.
All lands are free to trade, and even if owners
sell Metabus Land, they can continue
to be compensated for profits from the transaction
if they maintain their authority over real estate.

Digital Land split investment.
Digital Land can be invested in installments.
Not everyone can be the owner of Land. Land's owners
can apply for split investment autonomously,
and if there is a demand, they share the authority
to own the lock-up as a split. The divided land is divided into NFT pieces and can be traded
in the secondary market.
MTY TOKEN
META PLAY is an ERC-20-based governance token.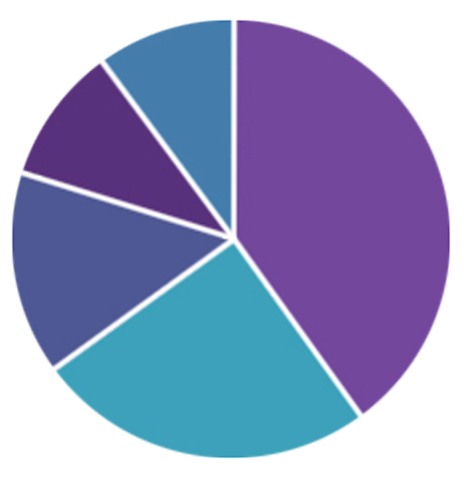 Token name&nbsp : &nbspMETA PLAY
Symbol&nbsp : &nbspMTY
Total Issuance&nbsp : &nbsp 1,000,000,000 MTY
Token sale
100,000,000 MTY &nbsp 10%
Partnership
250,000,000 MTY &nbsp 25%
Development
150,000,000 MTY &nbsp 15%
Reward
400,000,000 MTY &nbsp 40%
Team
100,000,000 MTY &nbsp 10%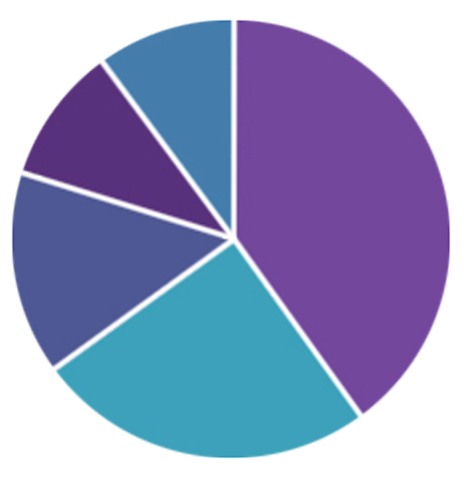 MTY Roadmap
2021 Q1
Foundation
2021 Q2
Project plan
2021 Q3
Project progress
2021 Q4
Metabus platform
development started
2022 Q1
Establishment of Metabus Real Estate
Indirect Investment Platform.

Recruitment and appointment
of professional investors.

Dividend of proceeds from the first
equity investment begins.

Listed on overseas exchanges.

2022 Q2
Metabus platform is officially opened.

Partnership with Metabus
Platform Company.

Partnership with a domestic
real estate company.

Additional listing on the exchange.

2022 Q3
Meta with global company bus.

Additional purchase of Metabus
real estate purchase.

Dividend of proceeds from
the 2nd equity investment begins.

2022 Q4
Operation of NFT incineration system.

Expanding Metabus Global Operation.

2023 Q1
Additional listing on the exchange.